Mission
Elevated Insurance Group is dedicated to educating and empowering clients, like you, to confidently choose the insurance coverage that best protects your family and finances.  In a world of online quotes and cookie-cutter products,  our team takes pride in knowing the value of building a personalized relationship and truly understanding the needs of our clients. 
Vision
Our vision at Elevated Insurance Group is to be trusted advisors when it comes to our family's, clients', and prospective customer's insurance needs.   
Core Values
Family:  Family comes first at Elevated Insurance Group.  Our team goes to work every day for your family, so we can be there for our own.  That's what makes us relatable.  We're never going to "sell" you anything.  We are here to advise you on options that will best protect your family, like we would do for our own. 
Respect:  Elevated Insurance Group team members honor the golden rule "Treat others the way you want to be treated."  Thanks mom!  We expect each of our team members shows the same respect they would ask for in every client interaction. 
Knowledge:  At Elevated Insurance Group, we are committed to being experts in our field.  Our team embraces the life-long-student mentality so we feel comfortable asking questions other agents may be afraid of asking.  We want to lead the industry on product knowledge so we can give you the best advice possible.   
Unlike a captive, or direct insurance company who only offers their own proprietary products, our agency is 100% independent of any one company. When it comes to something as important as insurance, it's imperative that you work with an agency who has an in-depth knowledge of multiple insurance products, companies, and guidelines — not just one.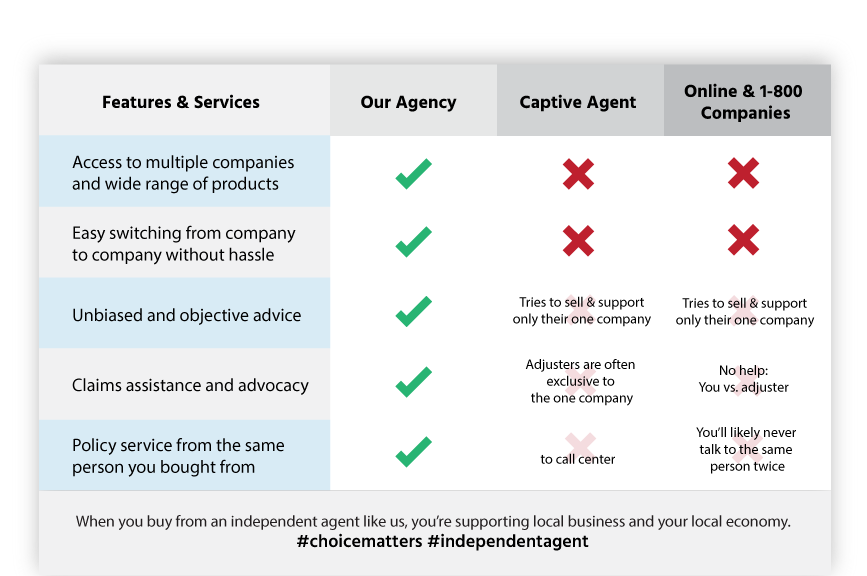 At the end of the day, what separates one agent from another, is their ability to proactively service their policyholders, and their knowledge of the insurance industry, products, and different situations that may present themselves to their clients.